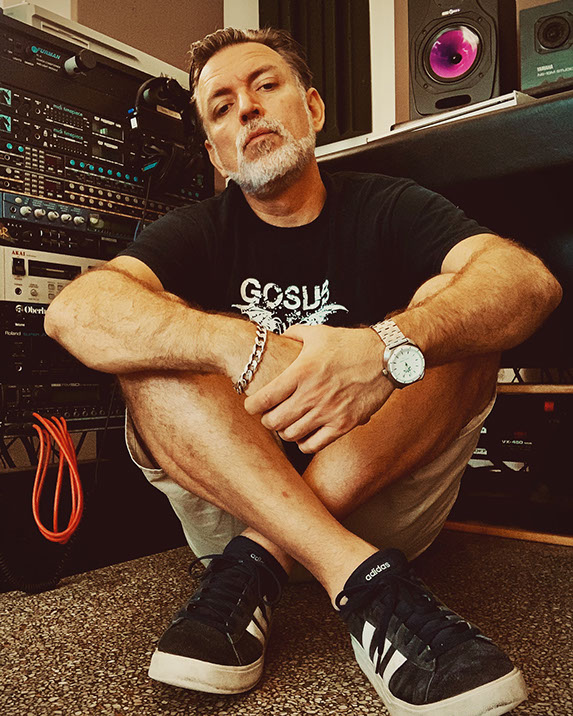 Miami's legendary producer Shad T. Scott has been the main man behind the Gosub project since it's original conception in the late 90's. Gosub's debut album "A Collection of Mind Frames" (2000) brought a new breath to electro by stripping away zaps and robot voices leaving the pure essence of electro as his backbone to inject Shad's love of funk and jazz to his works and continues with this concept through every release from the Gosub project.
Shad has worked in all aspects of the music industry from heading his own label Isophlux, writing scores for major motion pictures, programming & engineering pop music, to playing live electro/techno performances around the world.
Shad got his start in music being the font man for a punk band when he was a teenager in the late 80's. With band mates either being deported or just disappearing it left Shad to his own devices. These events lead him to discover electronic music. Shad became a fan of industrial music following bands like Skinny Puppy and Front 242. An ex-girlfriend left a synth at his house which led him to discovering the world of synthesizers and drum machines. Shad went to every pawn shop and garage sale looking for old synths and studio equipment, learning along the way how to use everything he got his hand on.
By the early 90's Shad started releasing music under his own name for a record label he and his friend Seven started called Isophlux. Releasing under project names like Metal Beat, Phrunt, Anthiliawaters, Dcast Dynamics and others, Shad has been able to find outlets for all his musical concepts.
With his label Isophlux he signed and debuted artist such as Jimmy Edgar, Lusine. Stryke, Wyndell Long and others. Having a passion for releasing new artist as well as his own works allowed his label Isophlux to gain a cult following which continues today.
In the 90's Shad moved to Los Angeles and became one goto electronic music musician / programmers working with top acts such as:
Alanis Morissette
Aerosmith
Van Halen
Fiona Apple
K.D. Lang
Dido
Billy Idol
No Doubt
and others...
Since 2000 Shad's main focus is a steady output of albums and singles under the Gosub project. Releasing his brand of electro/techno on labels from around the world. His current focus is his new 2 hour live sets mixing his love of real techno and electro into "one of the most powerful live shows around" as stated by a recent promoters.
I